A.M. Best Affirms Rockingham Insurance Credit Rating
January 18, 2021
A.M. Best has affirmed Rockingham Insurance will maintain the Financial Strength Rating of A (Excellent) with a stable outlook. The rating is a measure of an insurance company's relative creditworthiness.  Founded in 1869, Rockingham Insurance is a national Personal Lines, Commercial Lines, and Specialty Lines Insurer, headquartered in Harrisonburg, VA.
"In a year with many challenges, the rating validates our financial strength and continued company performance," said Robert Lyon, President & CEO. "It reflects the exceptional commitment of our associates and relationships with agency partners." The "A" rating recognizes Rockingham Insurance's solid financial results in addition to profitable growth. The company was specifically recognized for its favorable underwriting performance since 2013.
A.M. Best Rating Services, Inc. is a global credit rating company with a unique focus on the insurance industry. For more information, visit http://ambest.com or http://www.ambest.com/ratings/methodology.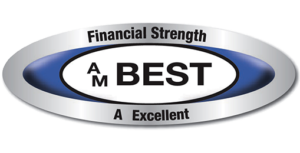 About Rockingham Insurance
Rockingham Insurance is a property & casualty insurance company providing coverage for homes, autos, farms, rental properties, and businesses. Rockingham Insurance includes; Rockingham Insurance Company, Rockingham Casualty Company, Rockingham Mutual Service Agency, and Rockingham Specialty, Inc. Headquartered in Harrisonburg, Virginia, Rockingham Insurance is eligible to write business in all fifty states. For over 150 years, Rockingham has been insuring the people and companies that make our community grow and thrive. Rockingham holds an "A" Excellent rating with A.M. Best Company, a highly regarded assessor of the financial and management stability of insurance companies. Visit https://rockingham.insure for more information.