Rockingham Insurance Marks Inaugural Year of Commercial Lines
HARRISONBURG, Va., November 25, 2019 
Since the launch of a newly formed Commercial Lines division a year ago, Rockingham Insurance is pleased to announce premium written of $15 million, while exceeding desirable financial targets. Rockingham announced the launch of Commercial Elite products in November 2018, to enhance its existing business product portfolio.  
Rockingham distributes the Commercial Elite product primarily through 34 select independent agencies in Virginia with segment-specific products, including habitational, artisan contractors, and restaurants utilizing customized coverages and pricing. It is also offered through the company's exclusive agent channel, enhancing existing small business, personal lines, and specialty line products.   
"I could not be more thankful to have such strong agency partners and an exceptional team comprised of 11 employees to allow the successful introduction of these new products," said Shawn Clavon, Vice President of Commercial Lines. Rockingham Insurance believes the successful inaugural year poises them for future success as they expand into Pennsylvania in 2020. 
Rockingham Insurance would like to recognize the 27 founding agent partners who contributed to the program's success: 
Arthur J. Gallagher Risk Management Services
,
 Inc
.
Atlantic Charter Insurance Group
,
 Inc
.
Bankers Insurance
,
 L
LC
Beskin
-Divers Insurance Group
, Inc.
Brown & Brown Insurance Agency 
of
 Virginia
,
 Inc
.
Riverland
 Insurers
Ford Agency
,
 Inc
.
Freeman & Sherburne, Inc
.
Gantt Insurance Agency
, Inc.
G.F. Walls Agency
,
 Inc
.
Gibrall
 Insurance Agency
,
 Inc
.
Indaco
 Risk Advisors
, Inc.
John Alderson Agency
,
 Inc
.
Marsh & Mc
L
ennan Agency
,
 L
LC
Members Assurance P&C
,
 L
LC
Middle Peninsula Insurance
 Agency
– A Towne Insurance Agency
Prosper Insurance Group
,
 L
LC
Ronnie Shriner Insurance
 Agency, Inc.
Sanford Insurance Agency
, Inc.
Spherient
 Insurance
,
 L
LC
Straus, 
Itzkowitz
 & 
Lecompte
– A Towne Insurance Agency 
Towne Insurance Agency
,
 L
LC
U
SI
 Insurance Services
,
 L
LC
W
BR
 Insurance Agency
,
 L
LC
Weaver Insurance 
Agency, Inc.
WBA Insurance
Williard
 Insurance Agency
, Inc.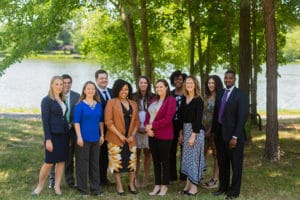 Commercial Elite Underwriting Team (from left to right: Heather Hamilton, Caleb Simpson, Amanda Taylor, David Lint, Jessica Jones, Kristin Bennett, Stephanie McKinney, Brittany Edwards, Susan Wealthy, Kali McKinney, and Shawn Clavon) 
About Rockingham Insurance 
Rockingham Insurance is a property & casualty insurance company providing coverage for homes, autos, farms, rental properties, and businesses. Rockingham Insurance includes; Rockingham Insurance Company, Rockingham Casualty Company, Rockingham Mutual Service Agency, and Rockingham Specialty, Inc. Headquartered in Harrisonburg, Virginia, Rockingham Insurance is eligible to write business in all fifty states. For 150 years, Rockingham has been insuring the people and companies that make our community grow and thrive. Rockingham holds an "A" Excellent rating with A.M. Best Company, a highly regarded assessor of the financial and management stability of insurance companies. Visit rockingham.insure for more information.