Rockingham Insurance Names Kevin Vance as Chief Risk Officer
HARRISONBURG, Va. – July 22, 2022 – Rockingham Insurance recently announced Kevin Vance as Chief Risk Officer. In the new role, Vance will collaborate with executive leadership on key decisions that enable strategic growth, coordinate the enterprise risk management program, and lead the annual reinsurance placement.
President & CEO Robert Lyon explained, "he brings a wealth of industry experience to the new role, as our reinsurance placement has grown in complexity and diversification into the specialty and commercial segments."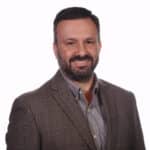 Kevin joins Rockingham Insurance with 25 years of insurance industry experience. Most recently, he was a Managing Director at Aon where he managed reinsurance negotiations and placements for a variety of property and casualty insurance companies.
His prior experience includes service in the United States Air Force. Kevin earned a bachelor's degree in Business Administration from the University of Georgia. He holds the Associate in Reinsurance (ARe) designation and is pursuing the Associate in Risk Management (ARM) designation.
About Rockingham Insurance
Rockingham Insurance is a property & casualty insurance company providing coverage for homes, autos, farms, rental properties, and businesses. Rockingham Insurance includes; Rockingham Insurance Company, Rockingham Casualty Company, Rockingham Mutual Service Agency, and Rockingham Specialty, Inc. Headquartered in Harrisonburg, Virginia, Rockingham Insurance is eligible to write business in all fifty states. For over 150 years, Rockingham has been insuring the people and companies that make our community grow and thrive. Rockingham holds an "A" Excellent rating with A.M. Best Company, a highly regarded assessor of insurance companies' financial and management stability. Visit https://rockingham.insure for more information.
Contact:
William E. Bayer, Chief Customer Experience Officer
Rockingham Insurance
(800) 434-7736 x3108
bbayer@rockingham.insure
###