On a cold and frosty morning, while driving to work, you switch through the radio stations to find your favorite tune. You begin making a mental checklist of the tasks you need to accomplish today in the office. Your mind then drifts to the grocery items you need to pick-up at the store after work.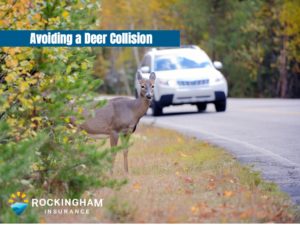 Suddenly, you are jerked back to reality when three deer unexpectedly run out in front of your vehicle to cross the busy road. You jam on the brakes, hoping to stop before colliding with the animals. You breathe a sigh of relief once the deer trot off to safety and escape the hit.
Many of us have experienced a scenario similar to this one. And, unfortunately, many of us have made contact with deer. Approximately 1.5 million deer-vehicle collisions occur each year, racking up over $1 billion in property damage.
It is challenging to avoid deer-related accidents; however, you can help prevent deer from hitting your vehicle by following these defensive driving tips.
In daylight hours, a driver can see an animal at the side of the road or on the road soon enough to avoid a collision. However, at night, drivers usually do not see an animal until it is too close to avoid. Be aware that most animals are most active during the evening and early morning hours. The majority of deer-vehicle collisions occur between dusk and dawn, deer are most active between 6-9 pm. It's crucial to remain attentive and alert to your surroundings, especially when in an area marked with a deer crossing sign.
Once you've spotted a deer, brake, but don't swerve. Swerving can cause a more severe crash. Use your high beams to see the deer and the roadway more clearly, except when there is incoming traffic. Put down distractions such as food or your cell phone, and continue scanning your surroundings for other animals. Remember, if you see one deer, there're likely more.
Your safety, as well as the security of your passengers and other motorists on the road, should not be jeopardized by trying to avoid hitting a deer. Deer vehicle collisions can be a costly accident, which is why it's essential that your vehicle is protected with the right type of insurance. The comprehensive portion of our auto policy covers collision with an animal. If a deer has hit your vehicle, contact your local Rockingham Insurance agent or claims expert to report any damage to your car. Check out our auto insurance to discover more ways Rockingham Insurance is here to help.