According to the National Highway Traffic Safety Administration, fatalities and injuries for cyclists and pedestrians are increasing.
These cyclist and pedestrian safety guidelines can help keep you safe.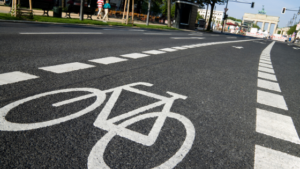 In 2018, there were 857 traffic fatalities involving cyclists and pedestrians – a 6.3% increase since 2017
There were 467,000 bicycle related injuries in 2015.
A single death or injury is one too many.  Increasing knowledge of roadway regulations and safe behaviors may help reduce those numbers.  Laws and responsibilities are designed to keep everyone moving about smoothly and safely. Here are some of the basic facts.
Motorists are required by law to approach and pass cyclists at a reasonable speed and allow at least two feet between your vehicle and the cyclist. Three feet of safety cushion is even better.
A bicycle is considered a vehicle in Virginia and has the same duties and rights as cars on the road, including obeying all traffic signs, signals, lights, and markings. A bicycle should always travel in the same direction as motor vehicle traffic. Cyclists are not permitted to ride on interstates or other controlled access roadways. Cyclists and motorists must yield right of way to pedestrians in marked and unmarked crosswalks.
Motorists are required to use signals to notify other roadway users of intent, and cyclists must do the same using hand signals. Using predictable behaviors while driving, biking, or walking can reduce the risk of crashes.
Cyclists can also protect themselves by wearing a helmet, bright clothing, flashing lights during day and night, and securing loose pant legs or other loose clothing. Remember vehicle extensions. A side mirror or trailer can be deadly for people biking, and even the smallest bump can be fatal.
Pedestrians can improve safety by wearing bright colors during the day and reflective material or blinking lights at night. Light-colored clothing is slightly helpful in making you visible at night. However, reflective tape or reflective fabric is much better. A side mirror or trailer can be deadly for pedestrians, and even the smallest bump can be fatal.
All road users should be aware of their surroundings, including paying particular attention to blind spots where other roadway users may be hidden. Be mindful of "inattention blindness," and use extra caution when road changes are present and in entrances and exits. Minimize your distractions. Distracted drivers are more likely to hit cyclists and pedestrians.
Pedestrians must travel against traffic when walking in the road. Use sidewalks and marked crossings whenever available. Motorists and cyclists must yield to pedestrians in crosswalks, both marked and unmarked, when making a right turn on red, or as instructed by law enforcement or traffic control devices.
Local ordinance determines the use of sidewalks by bicycles and other alternative devices. Bikes should yield the right-of-way to any pedestrian when permitted to be on sidewalks and give an audible signal before overtaking and passing a pedestrian.
Remember – we are all on the road together. It is everyone's responsibility to make the road safer for others. If you'd like to learn more about keeping yourself or your property safe, contact a local Rockingham Insurance agent today.