Renter's insurance, with all its benefits, is actually very affordable.
When you purchase a car, you get auto insurance, and when you purchase a home, you get homeowner's insurance. But surprisingly, many renters either do not know about, or choose not to purchase, Renter's Insurance. It's a common misconception that this type of insurance is unnecessary, but remember – you face the same risks of personal property losses and liability whether you live in an apartment that you rent or a home that you own. If you want to protect yourself against these perils, it is imperative that you invest in a renter's insurance policy.
When debating whether or not you need coverage, you must consider what the policy entails. Primarily, a renter's policy covers your clothing, furniture, TV, stereo, electronics, and other personal property against losses. It also provides liability coverage if you are held responsible for accidental bodily injury or damage to the property of others.
Furthermore, your policy will generally provide coverage for losses caused by: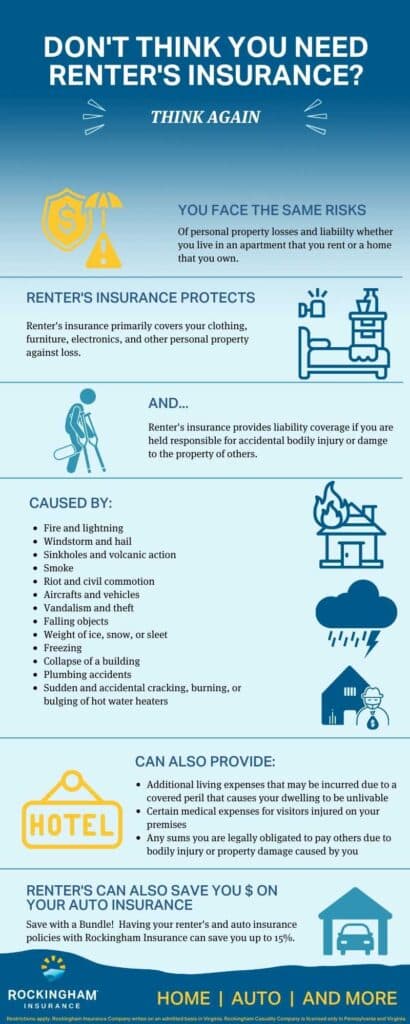 Fire and lightning

Windstorms and hail

Sinkholes and volcanic action

Smoke

Riot and civil commotion

Aircrafts and vehicles

Vandalism and theft

Falling objects

Weight of ice, snow, or sleet

Freezing

Collapse of a building

Plumbing accidents

Sudden and accidental cracking, burning, or bulging of hot water heaters
Though not all policies include these benefits, you can also add protections for:  
Additional living expenses that may be incurred due to a covered peril that causes your dwelling to be unlivable

Certain medical expenses for visitors injured on your premises.

Any sums you are legally obligated to pay others due to bodily injury or property damage caused by you
Renter's insurance, with all its benefits, is actually very affordable. According to NerdWallet, renter's insurance is one of the least expensive policies you can purchase, with an average cost of only $15 per month. Plus, you likely already have auto insurance, and if you bundle your renter's insurance and auto insurance policies together, you can get up to 15% off with our multi-policy discount*.
At the end of the day, renter's insurance is a relatively minor cost that offers invaluable protection. And, as the saying goes, it is always better to be safe than sorry.
At Rockingham Insurance, we want you to feel protected, no matter where you choose to live. If you want to learn more about renter's insurance or add coverage to the property you rent, consult your local Rockingham Insurance agent.
*The information on this site is general in nature. Coverage descriptions are necessarily simplified. Whether a particular loss is covered depends on the specific facts and the provisions, exclusions, and actual policy limits. The site contents do not alter the Terms or Conditions of our policies. For a complete description of coverage, review the policy documents. Coverage options, limits, discounts, deductibles, and other features are subject to meeting our underwriting criteria and state availability. Not all features are available in all states. Discounts may not apply to all coverages and/or vehicles.