Preparing your home for Spring thunderstorms with these preventative tips, you can reduce home and property damage to ensure your family's safety.
The beauty of spring is one to recognize, and so are the intense storms that come with it. Spring storms can place unexpected damage on your property. With the following preventative tips, you can reduce home and property damage and ensure your family's safety.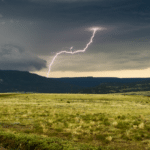 Trim Your Trees

Trimming off excess limbs and trees can prevent storm claims and other damage. Tree branches that extend over your home should be trimmed and taken care of to avoid damaging the exterior (or interior!) of your home.

Clean Your Gutters

BEPP encourages the removing debris built up from the winter. The removal can help water flow freely through your gutters and rain-spouts easily. Secure the downspouts and confirm that water is flowing away from your home and not toward it.

Check your emergency kits

Checking your storm survival kits twice a year ensures preparation for unexpected storms. Kit contents can vary upon location and family size, but below is a great checklist to begin with:
Two gallons of water per person
A three-day supply of non-perishable food for the family and pets
Fresh batteries and a flashlight
A battery-powered or hand-crank radio
First-aid kit
Garbage bags
Multiple blankets
A few books or games
Purchase a home lightning surge protector

According to DisasterSafety.org, power outages can come unexpectedly and last for unknown periods. Purchasing a home lightning surge protector is just another item to add to that emergency kit.

Repair Your Roof

Checking your roof's condition to make sure you don't need any repairs from previous winter weather can minimize damage if and when a storm arrives.
If and when a storm arrives, it's beneficial to take preventative measures. These tips can ensure your home and family get the best available coverage.
Prepare for the unexpected. Talk to your Rockingham Insurance agent to review your coverage and receive year-long protection that keeps you and your family safe.