Carol and Stacy Simmons: A mother-son team protect the things that matter for Virginia's families.
For the Simmons', it's all in the family – literally. 
Carol Simmons didn't realize it almost 40 years ago that helping to protect the things that matter for generations of families throughout Roanoke, Virginia, would lead to a family tradition of helping others. 
Carol has the distinct honor of being the first female agent to represent Rockingham Insurance. And in 1984, she planted her family business roots down in Vinton, Virginia – a small town of about 8,000 people – by opening Simmons Insurance Agency. 
By 2008, Carol's daughter-in-law, Debbie Simmons, would be working alongside Carol at  Simmons Insurance Agency. And in 2011, the mother-son connection would move over into the business side of the family when Carol's son, Stacy – who has a background in project management and industrial maintenance – began conducting property inspections for Carol's business. Debbie and Stacy opened a second office in Moneta, near Smith Mountain Lake in Bedford County.
Now, over a decade later, Stacy is the principal agent and co-owner of Simmons Insurance Agency. So, what's the special connection that makes Stacy and Carol an effective mother/son team?
"Thankfully, we have always gotten along and that makes life much easier. We work together, farm together, and vacation together," says Debbie.
Stacy says that mutual respect is a key ingredient when working with his mom.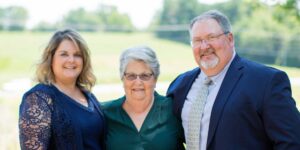 "We are very fortunate that the dynamics don't change from work to home," said Stacy. "We also have a great respect for each other. I also see my mom's years of experience as an asset as we work together to help protect our communities."
And while insurance may be a family affair, the Simmons' are all about serving the community.
"We are proud to represent a company that has such a long history in Virginia," says Carol. "Simmons Insurance and Rockingham Insurance have always been involved with local community service and giving back to others."
Stacy echoes Carol's sentiments and is honored to help protect the community as farms, property, and homes pass on through the generations.
"All of our clients are very special – we take pride in the quality customer service we provide them," says Stacy. "Our agency has insured several generations of families throughout our history … and still does today."
Simmons Insurance Agency and Rockingham Insurance extend our gratitude and appreciation to mom's everywhere, and we wish you all a very happy Mother's Day!