As the weather turns warm, it's time to fire up your grill. Grilling related home fires increase every year as chefs take their skills outside.
Gas grills cause more home fires than charcoal grills, according to the National Fire Protection Association. Whether you own a propane gas, charcoal, or electric grill, follow these grill safety tips to keep you and your home safe.
Propane and charcoal grills should only be used outside and placed well away from the home deck railings, and out from under eaves and overhanging branches. This area also needs to be well ventilated.
Keep children and pets away from the grill area.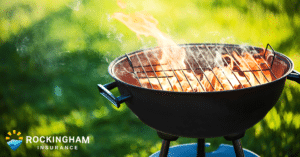 Be sure that all parts of the unit are firmly in place and that the grill is stable and can't easily be tipped over.
Keep your grill clean by removing grease or fat buildup from the grill and trays below the grill.
Never leave the grill unattended once lit, and be careful after the fire is out. The grill body can remain hot up to an hour after being used.
Have a fire extinguisher on hand and know how to cut fuel supplies, extinguish fires, and treat burns should things getout of control.
Never attempt to move a hot grill. It's easy to stumble and drop it, resulting in severe burns.
Use barbecue utensils with long handles to avoid burns and splatters. Wear clothing that does not have hanging shirt tails, frills, or apron strings that can catch fire. Use flame-retardant mitts when adjusting hot vents or moving pans on the grill.
Keep your fire under control to prevent flare-ups. To put out flare-ups, raise the grid that food is on and spread the coals out evenly or adjust the controls to lower the temperature.
If using an electrically-operated accessory (rotisseries, etc.), ground connectors per local codes. Keep electrical cords away from walkways, or anywhere people can trip over them.
Enjoy the summer months grilling without accidents by following the simple steps. Home is where your heart and BBQ love is- we feel the same way. Protect the things that matter with a Rockingham Insurance home policy. Contact a local agent today for a quote or coverage review.