Statements in this article were accurate at the time of publishing.
1. Reduced auto rates

With shelter-in-place orders in effect in our communities, there are fewer drivers on the road and a reduced number of accidents. We want to thank you for doing your part to stay home and stay safe. Beginning 7/1/20, renewing auto policyholders will automatically see reduced rates for the next full policy term. 
2. Payment relief
We understand COVID-19 has prompted unexpected financial hardships for many policyholders. If an income interruption is affecting your ability to pay an insurance payment, contact our Customer Experience Team at (800) 434-7736. We are working with policyholders on a case-by-case basis.
3. Protecting delivery drivers
Since there has been a temporary change in the job duties of many policyholders, we're now covering personal auto policyholders who are delivering products or food due to a temporary change in job requirements. This is in effect when in-person services at your employer are unavailable due to COVID-19. This consideration also does not cover drivers employed by on-demand app platforms such as GrubHub, DoorDash, or UberEats. If you are delivering products or food due to a temporary change in your job requirements, contact your local agent to learn more about how Rockingham has you covered.
4. Giving back to our hometown heroes
Although we must remain socially distant, we still make it a priority to help our local communities. Our home office staff donated masks to the Harrisonburg Fire Department, helping the heroes on the frontlines do their jobs safely. We also provided lunch for three local nursing home staff teams as a token of appreciation for being healthcare heroes.
5. Helping agents serve their communities
Here at Rockingham Insurance, we believe in giving back to the communities we serve. Our local agents reached out to the charities in their towns that were impacted by the COVID-19 outbreak. Rockingham Insurance provided agents with a total of $10,000 to give back to these organizations, helping over twenty charities better serve their communities.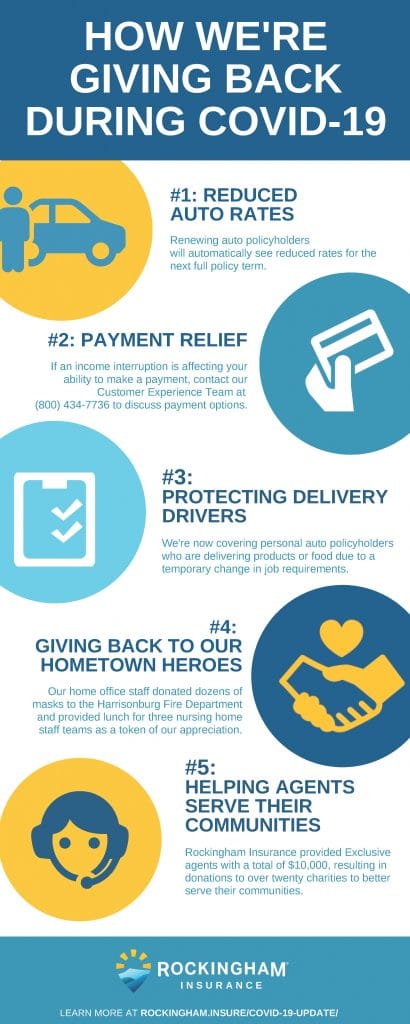 For over 150 years, Rockingham Insurance has been protecting the things that matter most. During the COVID-19 outbreak, we're here working hard to honor that commitment with our streamlined claims process, outstanding customer service, and local agent expertise. To stay up to date with our most recent COVID-19 support, be sure to check in with your local agent and visit our COVID-19 Update page.